Maid Insurance Renewal
Enjoy a Whopping 20% Discount on Your Renewal Premium
Renew your policy with us today and save 20% on your domestic helper/maid insurance renewal. Your safety and peace of mind are our top priorities, and this exclusive offer is our way of ensuring you receive the best coverage at an unbeatable price.
We understand the importance of affordability without compromising on quality. With our lowest price of $316.80, you can secure comprehensive insurance coverage for your domestic helper/maid without breaking the bank.
Hurry, This Promotion Ends December 31st
Enter your details to Enjoy the promotion
we will contact you to redeem the promotion price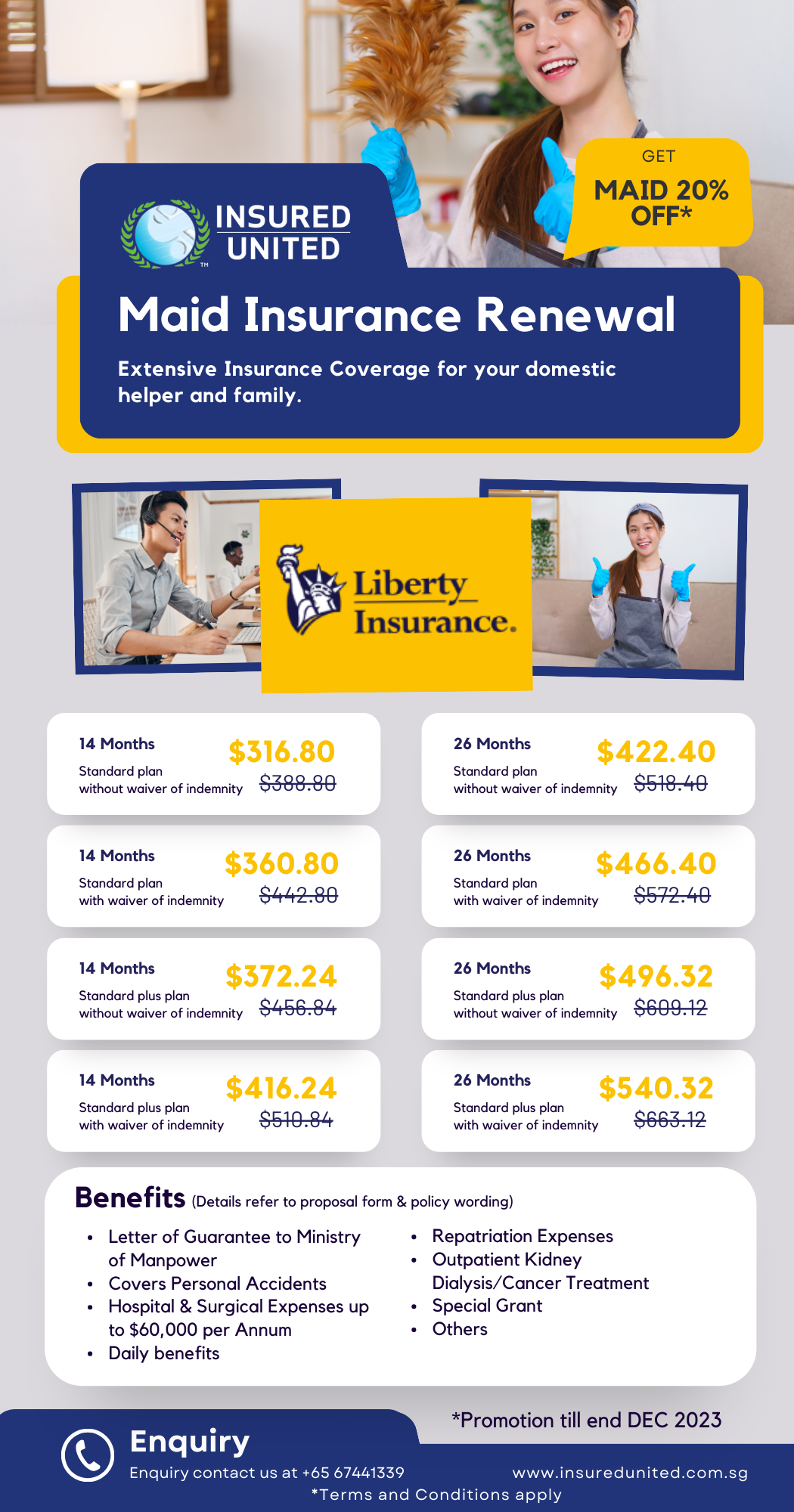 Benefits of Maid Insurance
Meets Ministry of Manpower's requirement for Security Bond, Personal Accident, and Hospitalization & Surgical Expenses

Same day transmission to Ministry of Manpower

Quick turnaround time

Comprehensive coverage including worldwide cover for Personal Accident and Hospitalisation.

Attractive premium and promotion

Cover for Covid-19 Treatment under Hospitalisation benefit (T&Cs Appy)

Comprehensive protection designed
for your helper
Liberty Insurance's comprehensive MaidCare plan is here to ensure that your domestic helper has sufficient insurance coverage in times of accident or illness.
Insurance Benefits
 Summary of Benefits for Foreign Domestic Worker
Section

Description of Benefits

Plan 1A

Plan 2A

Plan 3A

Plan 4A

1

Letter of Guarantee to Ministry of Manpower

S$5,000

S$5,000

S$5,000

S$5,000

2

Personal Accident

A. Death

S$60,000

S$65,000

S$70,000

S$75,000

B. Permanent Disablement

As per scale in Policy

As per scale in Policy

As per scale in Policy

As per scale in Policy

C. Medical Expenses with licensed TCM treatment up to S$100 per accident

S$1,000 (exclude TCM treatment)

S$2,000

S$2,500

S$3,500

3

Hospital & surgical expenses with extension to cover ambulance services & medical report fee up to S$100 per accident

S$15,000 per annum (Singapore & West Malaysia only)

S$15,000 per annum (Worldwide)

S$20,000 per annum (Worldwide)

S$30,000 per annum (Worldwide)

4

Daily Benefit

Not covered

Up to S$20 per day (maximum 60 days)

Up to S$30 per day (maximum 60 days)

Up to S$50 per day (maximum 60 days)

5

Repatriation Expenses

S$10,000

S$10,000

S$15,000

S$20,000

6

Wages & Levy Reimbursement

Not covered

Up to S$20 per day (maximum 60 days)

Up to S$30 per day (maximum 60 days)

Up to S$40 per day (maximum 60 days)

7

Re-hiring Expenses

S$250

S$300

S$350

S$500

8

Outpatient Kidney Dialysis/Cancer Treatment

Not covered

S$1,000

S$2,500

S$5,000

9

Special Grant

Not covered

S$2,000

S$2,500

S$3,000

10

Reimbursement of Indemnity Paid to Insurer

Optional

Optional

Optional

Optional

Extension A

Maid's (Insured person) Personal Belongings

S$250

S$300

S$350

S$500

Extension B

Employer's and Maid's Liability

S$5,000 (Any One Accident/in the aggregate)

S$10,000 (Any One Accident/in the aggregate)

S$50,000 (Any One Accident/in the aggregate)

S$75,000 (Any One Accident/in the aggregate)

Extension C

Fidelity Guarantee

S$500

S$1,000

S$2,000

S$5,000

Insurance Premium

Bond & Insurance (26 Months)

S$245.00

S$264.83

S$301.47

S$363.00

Bond & Insurance (14 Months)

S$183.75

S$198.62

S$226.10

S$272.25

Bond, Insurance & Reimbursement of Indemnity (26 Months)

S$298.50

S$318.33

S$354.97

S$416.50

Bond, Insurance & Reimbursement of Indemnity (14 Months)

S$237.25

S$252.12

S$279.60

S$325.75
Renew Your Maid Insurance At Ease

HASSLE-FREE RENEWAL OF YOUR MAID INSURANCE AND WORK PERMIT
Simply call us at our hotline: 63166613 to assist you with your maid insurance and work permit renewal*

Also check with us on our complimentary work permit renewal services.**
**Terms and Conditions apply